Benefits of the TOTALPAC® X Units
Designed with user-friendly features, the TOTALPAC® X units are easy to install and maintain.
A compact and recognized solution
Easy and compact installation
Wide door for easy access
NEMA 3 or NEMA 4 construction
Quarter turn door latches
Lockable door to protect against tampering
Lifting lugs provided for safe and easy handling
Corrosion resistant paint finish
Water supply connection piped through the bottom center of the unit to avoid freeze-up potential
Single drain connection
Serial number for easy reference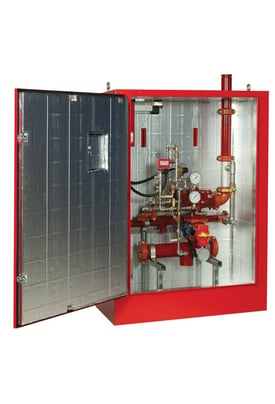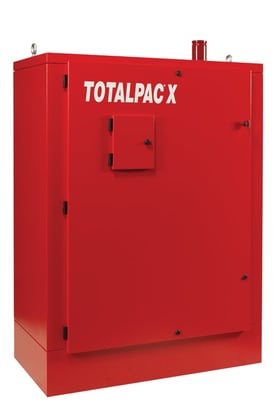 The Cabinet
Factory assembly of the TOTALPAC® X cabinets ensures that all components have been carefully integrated. All systems are fully programmed and tested at the factory which facilitates the onsite installation and commissioning process.
The TOTALPAC® X cabinets are of the freestanding type and are made of robust 14 gauge steel with a corrosion resistant fire red paint finish, polyester powder-coated and oven-baked on a phosphate base. Cabinets are also provided with a locked frontal door that is removable without special tools, reducing space requirements for ease of installation and maintenance. Furthermore, the door is provided with a neoprene gasket to reduce vibrations.
Technical details:
Compact layout saves floor space
Fully tested and programmed at the factory
Unique serial number on every unit
User-friendly owner's manual with every unit
Simplified operation and maintenance
Factory built under ISO-9001 conditions
Four (4) Construction NEMA Options
NEMA 3*
Enclosures constructed for either indoor or outdoor use to provide a degree of protection of the equipment inside the enclosure against ingress of solid foreign objects (falling dirt and windblown dust); to provide a degree of protection with respect to harmful effects on the equipment due to the ingress of water (rain, sleet, snow); and that will be undamaged by the external formation of ice on the enclosure.
Other options also available :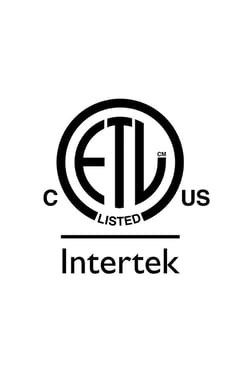 Comparison of Specific Non-Hazardous Applications*
Provides a Degree of Protection Against
the Following Environmental Conditions

TYPES OF ENCLOSURE

3
3X
4
4X
Incidental contact with the enclosed equipment

Rain, snow, and sleet

Hose−down and splashing water

Corrosive agents

Ingress of solid foreign objects (Circulating or settling
airborne dust, lint, fibers, and flyings)(b)

Ingress of solid foreign objects (Windblown dust, lint,
fibers, and flyings)(b)
a: these enclosures may be ventilated.
b: these fibers and flyings are nonhazardous materials and are not considered class III type ignitable fibers or combustible flyings.
Multiple Models and Available Configurations
Our adaptability, in order to better meet our customers' needs, is our main priority.
Available Configurations
Preaction
Non-interlocked with pneumatic or electric release
Single interlocked with pneumatic or electric release
Double interlocked with pneumatic-pneumatic, electric-pneulectric or electric-pneumatic release
Surefire®
Failsafe single or double interlocked preaction system
Multicycle
Firecycle® III single or double interlocked preaction
Firecycle® III deluge
Firecycle® III wet
Dry Pipe
Available in standard 175 psi or HP 250 psi
Wet Pipe
Available with constant pressure trim, retard chamber or excess pressure pump
Dimensions of the
TOTALPAC® X

Units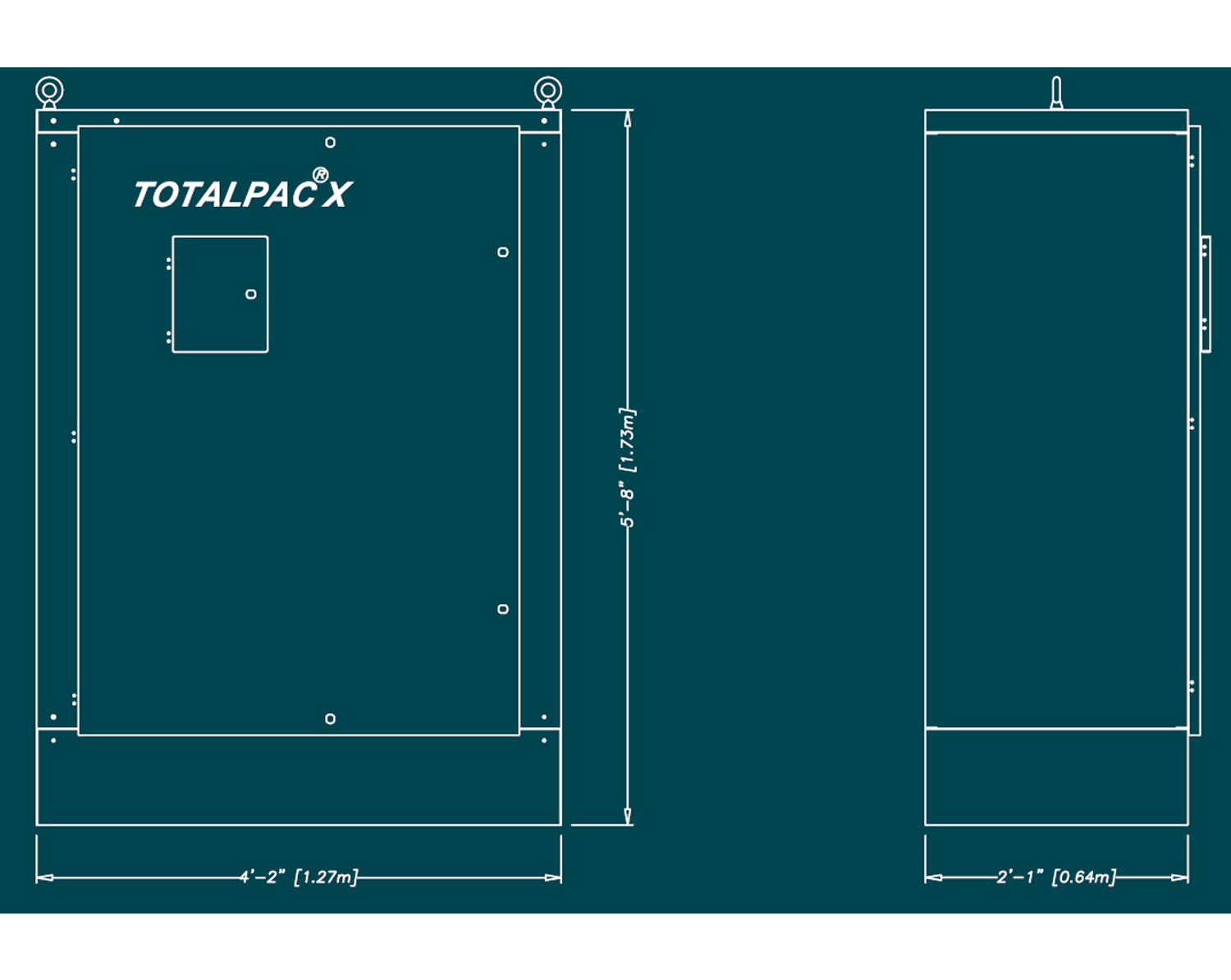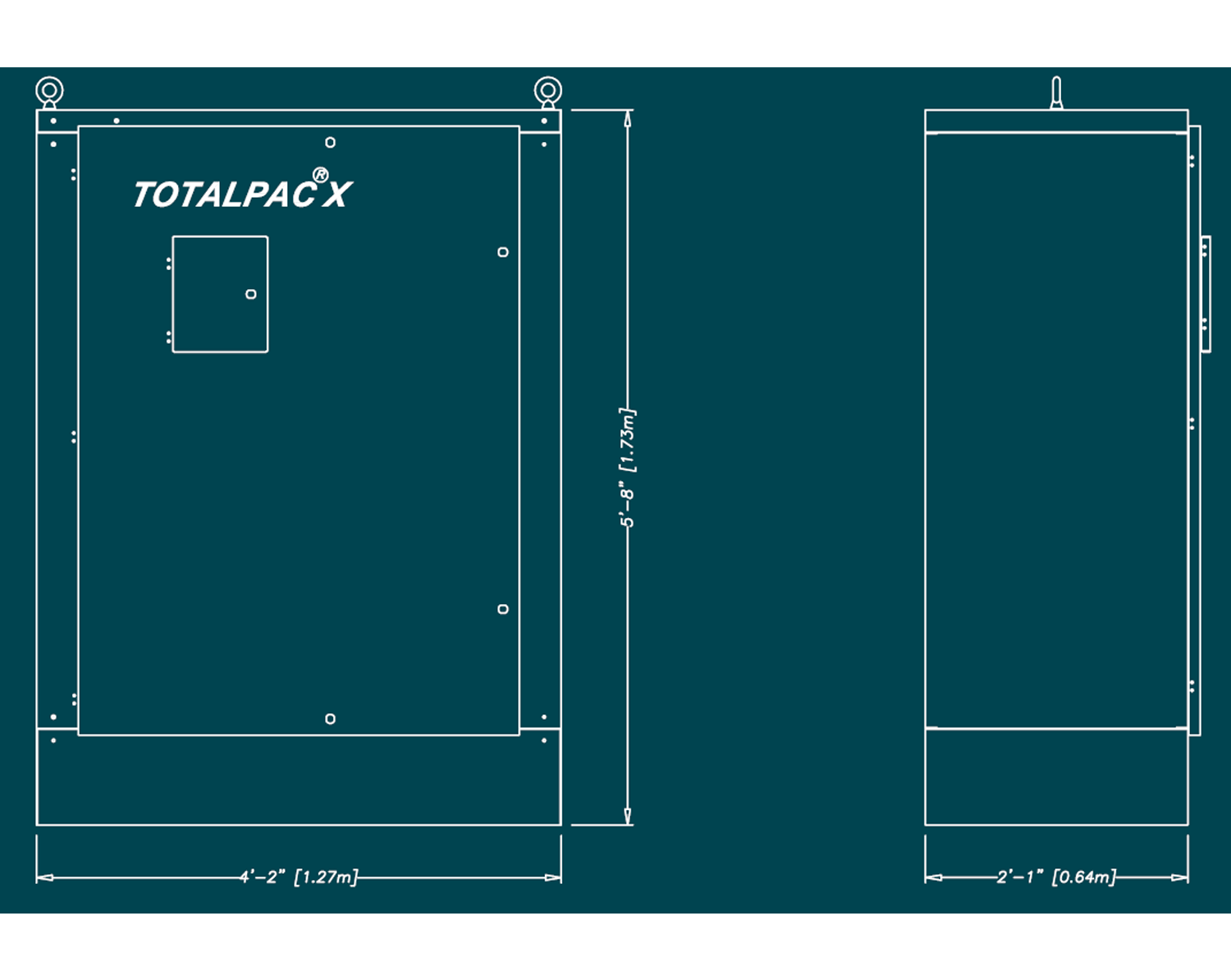 System Selection
SYSTEM TYPES

Types of Enclosure

3
3X
4
4X
Wet Pipe

Dry Pipe

Deluge

Preaction, standard single or double
interlocked, or Surefire®

Firecycle® wet, dry, deluge, preaction single
or double interlocked
Available with air option "B" only
Why trust the FireFlex team and its systems?
Our cutting-edge systems are an alliance between research, development, quality & durability.
BECAUSE WE ARE INDUSTRY PIONEERS
Since its inception in 1991, FIREFLEX SYSTEMS has been designing and manufacturing state-of-the-art innovative integrated fire protection systems that set the benchmark in the market.
FOR THE WIDEST SELECTION AVAILABLE ON THE MARKET
FIREFLEX SYSTEMS offers the widest selection of integrated systems on the market. Regardless of the hazard to be protected, FIREFLEX is able to offer the best available technology with the widest range of options to suit all needs.
FOR OUR QUALITY CONTROL
FIREFLEX SYSTEMS' commitment, year after year, to quality and continuous improvement has resulted in achieving and maintaining its ISO 9001 quality certification. Its modern facilities are geared towards producing a high-volume of quality integrated systems in a factory-controlled setting.
FOR OUR TECHNICAL SUPPORT
Whether it is through exhibits, conferences, lunch & learn presentations, technical seminars, Webinars or one-on-one technical discussions, FIREFLEX's technical sales representatives draw on their in-depth knowledge and expertise to provide a level of technical support that meets or exceeds customer expectations.
FOR OUR CUSTOMER SERVICE
Our customer service department is readily available to address any product related service call, replacement part or general operation and maintenance questions that may arise. All our integrated product lines possess a serial number which is entered into our database. This enables FIREFLEX to record and track service calls, replacement parts, or any system modifications that have been reported on individual units.
FOR OUR INNOVATIVE PRODUCTS
Actively involved with research and development, FIREFLEX embarked on a new endeavor to better serve the fire protection practitioner in addressing challenging fire protection scenarios that evolve in modern life.
Additional Options
Designed with user-friendly features, the TOTALPAC®X units are easy to install and maintain.
Low Temperature Sensor
The low temperature sensor will close the normally open contact when the temperature drops below 40°F (4.5°C).
The sensor will automatically reset to its normal state when the temperature rises above 40°F (4.5°C).
Heater Option
Heater option is recommended where ambient temperature can drop below 40°F (4.5°C). The cabinet's electric heater temperature cut-out point is set at 50°F (10°C). The heater option is equipped with a low temperature sensor that will activate a supervisory signal when temperature drops below 40°±5°F (4.5°±3°C).
Warning: TOTALPAC®X cabinet is rated to provide freeze protection down to a minimum temperature of 14°F (-10°C).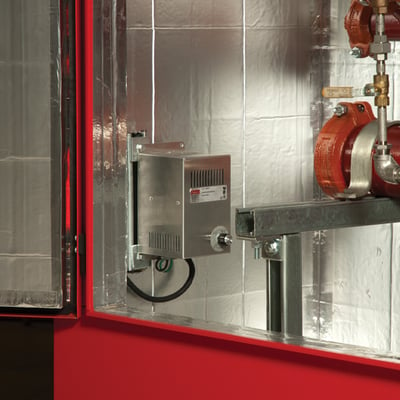 Riser Shut-off Valve Option and more
The riser shut-off valve option consists of a supervised butterfly valve which allows for a full flow trip test without flooding the system's piping and a sight glass located on the main drain for visual indication of the water flow.
Light Option
Optional DEL enclosure light is available for all cabinet configurations
Remote door switch activates the light when the door is opened
Light option can be ordered in two supply voltage settings:
Insulated Enclosure
Insulation is made on foam core 2" thick R13 and have a foil-faced sheathing board
composed of a uniform closed cell polyisocyanurate foam core bonded on each side to a triminate foil facer. Both sides have a foil reflective facer.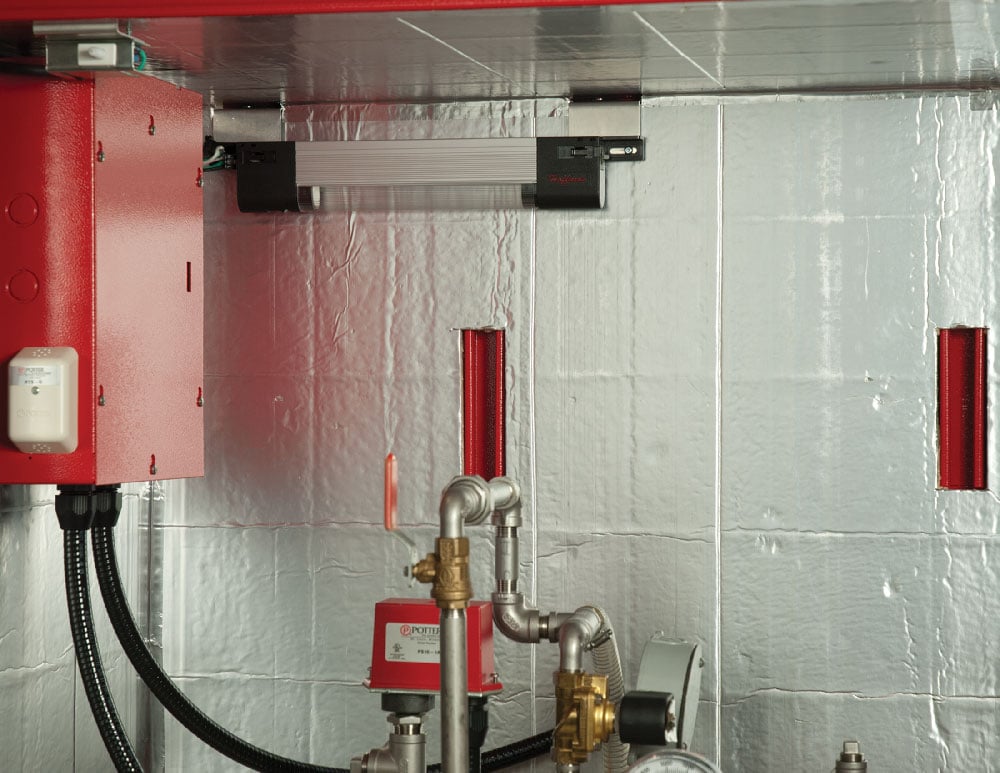 Air Supply for Cabinets
The automatic sprinkler piping is supervised by compressed air from a source installed inside or outside the cabinet. The air supply must be regulated. When the compressor option is selected (air supply style "A"), the motor must be sized to restore normal system air pressure within 30 minutes as per NFPA 13 requirements.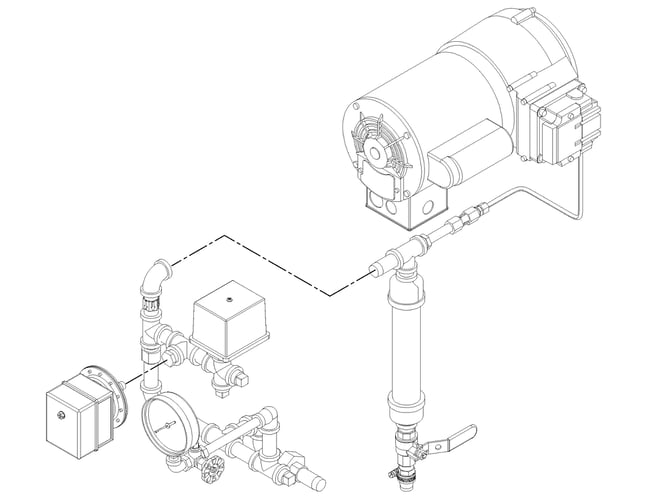 More Air Supply Alternatives
Air supply style "B":
This option is provided with an air pressure maintenance device factory mounted and adjusted in the TOTALPAC®X cabinet and piped to the air inlet port of the unit. Used to supervise the sprinkler piping network of dry or preaction sprinkler systems when the external air supply (by tank-mounted air compressor, plant air or dry nitrogen cylinders) is provided by others.
Note: the air supply must be restricted to ensure that it cannot replace air as fast as it escapes when a releasing device or sprinkler operates.
Air supply style "C"
This option is provided with an air pressure maintenance device factory mounted in the TOTALPAC®X cabinet. Used only for the pilot line of a pneumatically operated system.
Air supply style "D"
This option is provided with an air supervisory switch and shut-off trim. Used for freezer application with external air supply and regulation.
APPROVALS & STANDARD LISTING
Talk To A Fire Protection Expert
Whether you want to select, specify, install or maintain our systems, you'll find in this section a range of useful documents related to our integrated systems. For further information, do not hesitate to contact our team of experts.