Multiple Models and Available Configurations
Our adaptability, in order to better meet our customers' needs, is our main priority.
Available Configurations
FireFlex®'s Vacuum Fire Protection Systems are available in Dry-pipe Vacuum and Pre-action Vacuum, Non-Interlocked, Single Interlocked and Double Interlocked configurations in sizes from 3" to 8" and all use the same components making it easy to order.
Preaction
Non-interlocked
Single interlocked
Double interlocked
Dry Pipe
Available in standard 175 psi or HP 250 psi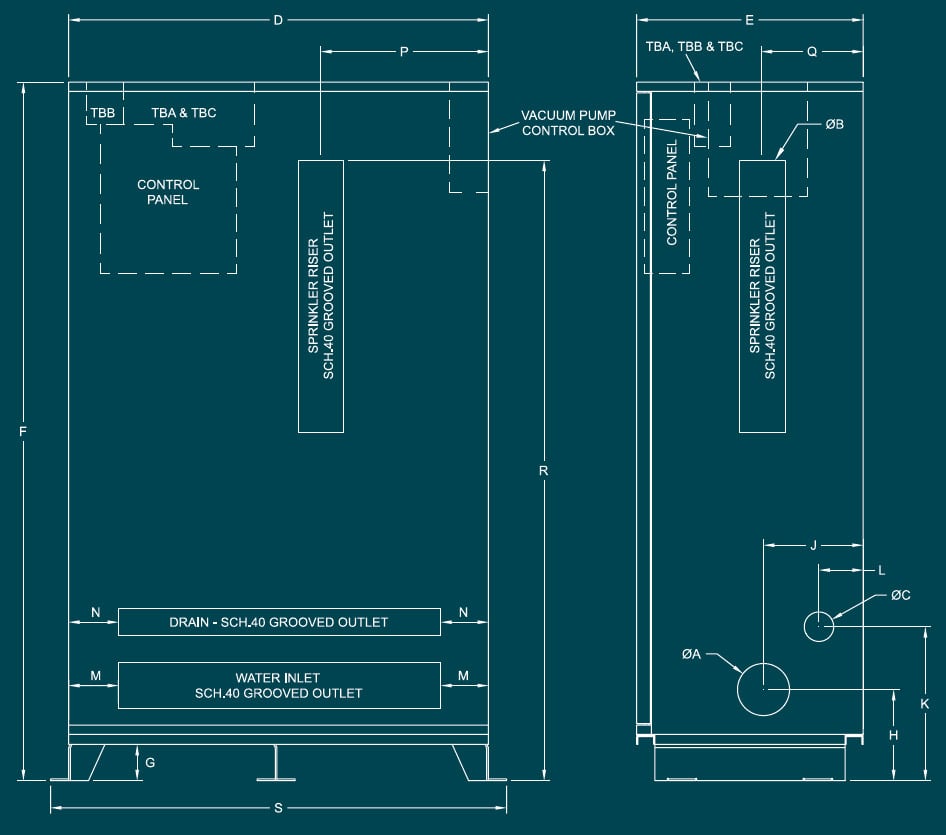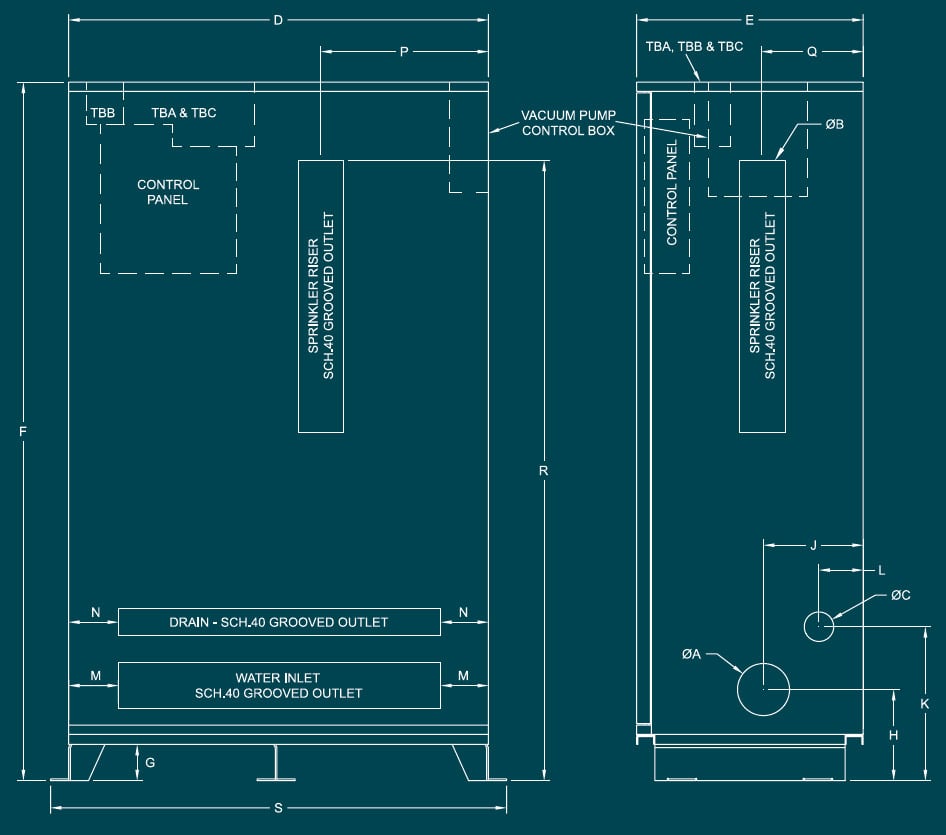 Dimensions FireFlex®-VACTEC® Units
| SYSTEM SIZE | A | B | C | D | E | F |
| --- | --- | --- | --- | --- | --- | --- |
| 3" | 4" | 3" | 2" | 46" | 25" | 77" |
| 4" | 4" | 4" | 2" | 46" | 25" | 77" |
| 6" | 6" | 6" | 2" | 46" | 25" | 77" |
| 8" | 8" | 8" | 2" | 54" | 31" | 81" |
Note : Dimensions and actual size may vary depending on options and configuration selected, please refer to data sheets for exact dimensions.
What FireFlex® VACTEC® units are made of?
FireFlex systems are made of industry-recognized components. We're proud to work with these amazing partners.
Renowned Control Panel
The Viking VFR-400 is cULus Listed, FM Approved and meets UL 864-9 requirements. It features onboard menu-driven programming with twelve pre-installed programs to facilitate set up.
The panel is compatible with multiple initiating devices such as: linear heat detection, smoke and heat detectors, waterflow indicators, low & high air pressure switches as well as manual pull stations.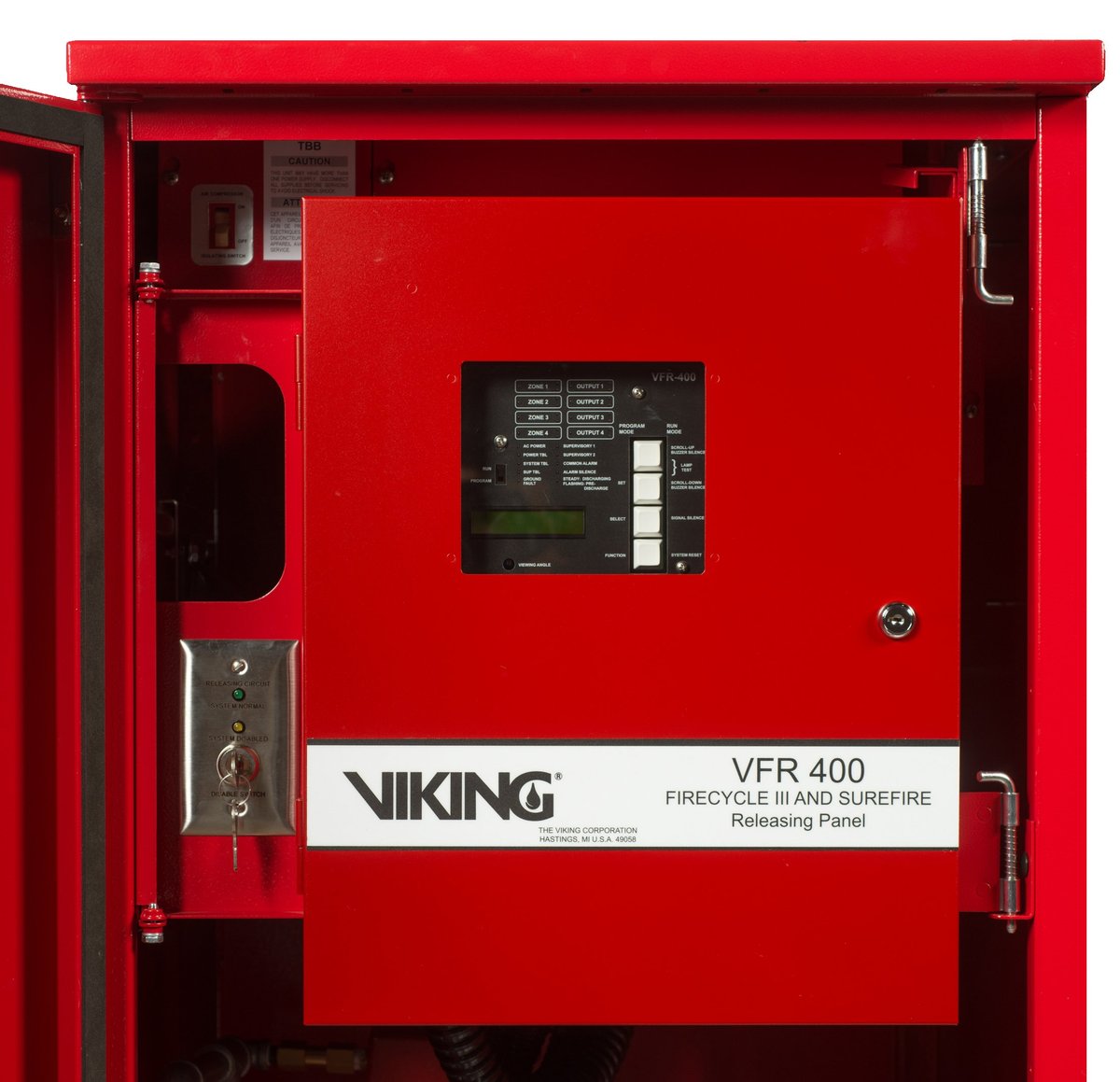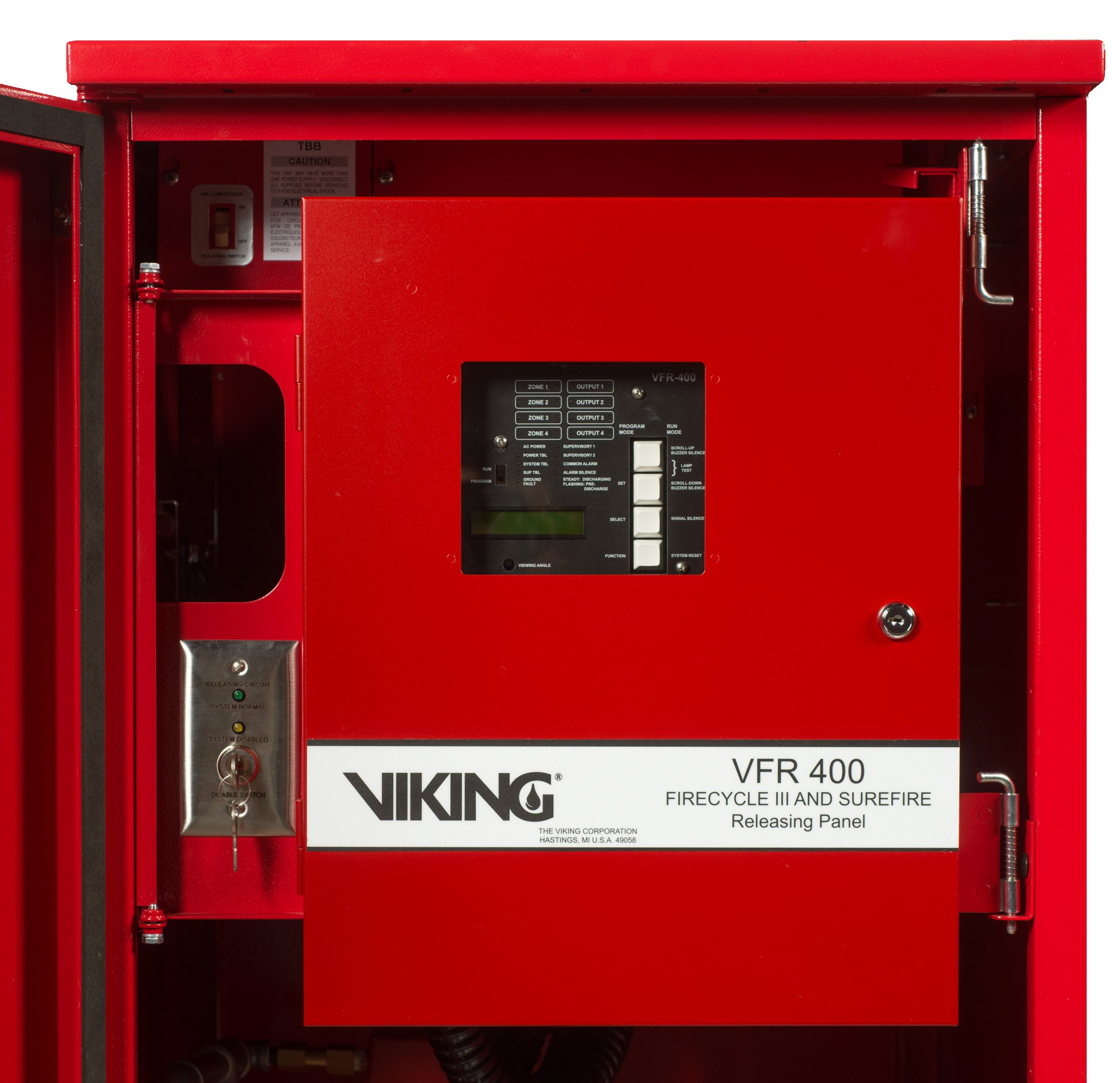 Aligned with key NFPA Requirements
We are actively involved in supporting and training the fire protection practitioner at all levels—including industry-related associations such as NFPA, SFPE, AFSA, NFSA and ASPE.
Releasing Circuit Disconnect Switch
Required by NFPA 72 - 2010 Edition, this feature is standard on all our FireFlex® VACTEC® units and prevents accidental discharge during maintenance or inspection. Operation of the key switch physically disconnects the release circuit wiring and causes a trouble signal at the releasing control panel.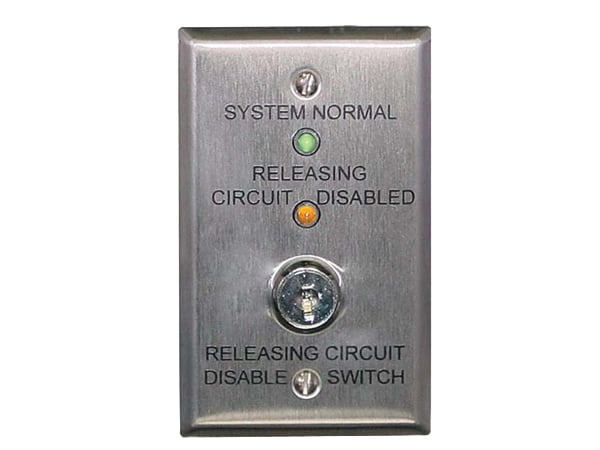 Why trust the FireFlex team and its systems?
Our cutting-edge systems are an alliance between research, development, quality & durability.
BECAUSE WE ARE INDUSTRY PIONEERS
Since its inception in 1991, FIREFLEX SYSTEMS has been designing and manufacturing state-of-the-art innovative integrated fire protection systems that set the benchmark in the market.
FOR THE WIDEST SELECTION AVAILABLE ON THE MARKET
FIREFLEX SYSTEMS offers the widest selection of integrated systems on the market. Regardless of the hazard to be protected, FIREFLEX is able to offer the best available technology with the widest range of options to suit all needs.
FOR OUR QUALITY CONTROL
FIREFLEX SYSTEMS' commitment, year after year, to quality and continuous improvement has resulted in achieving and maintaining its ISO 9001 quality certification. Its modern facilities are geared towards producing a high-volume of quality integrated systems in a factory-controlled setting.
FOR OUR TECHNICAL SUPPORT
Whether it is through exhibits, conferences, lunch & learn presentations, technical seminars, Webinars or one-on-one technical discussions, FIREFLEX's technical sales representatives draw on their in-depth knowledge and expertise to provide a level of technical support that meets or exceeds customer expectations.
FOR OUR CUSTOMER SERVICE
Our customer service department is readily available to address any product related service call, replacement part or general operation and maintenance questions that may arise. All our integrated product lines possess a serial number which is entered into our database. This enables FireFlex to record and track service calls, replacement parts, or any system modifications that have been reported on individual units.
FOR OUR INNOVATIVE PRODUCTS
Actively involved with research and development, FIREFLEX embarked on a new endeavor to better serve the fire protection practitioner in addressing challenging fire protection scenarios that evolve in modern life.
CORROSION INHIBITION
Negative pressure-based FireFlex®'s VACTEC® system and its vacuum technology provides inherent corrosion inhibiting capability by removing oxygen and moisture from the piping.
Economical & Efficient long-term Solution
It offers an economical and long term solution on applications where piping corrosion, clogging or ice plugs can affect system performance or where maintenance issues are a concern.
The inhibiting atmosphere is quickly created, only a few minutes after you start the system, normal vacuum pressure is reached thus creating the proper atmosphere to inhibit corrosion. The system pressure is then monitored in real-time by the FLX-PC controller ensuring a proper level at all times.
C Factor
For corrosion mitigation measures, it is important to ensure that water is kept out of the piping network during its standard operation or supervisory mode. C-value of 120 can be used for design purposes when such measures are able to be fully implemented as outlined in FireFlex®'s design manual.
Suitable Applications
Integrated Vacuum Fire Protection Systems can be used to protect all applications requiring the following types of systems: The corrosion mitigation properties of the Vacuum technology make this technology suitable for all applications where piping corrosion or pipe clogging is a concern.
Large parking garages where corrosion is often a concern.
Freezer protection is also a suitable application, where no ice plugs are formed in the piping network
The vacuum pump removes residual water in the riser each time it operates to maintain the proper vacuum level. No condensation problems occur, and no additional special equipment is required.
Storage applications where not heating the building can significantly reduce operational costs.
Mission critical and sensitive areas where water damage is a concern. Leaks in the piping network will not allow water droplets to escape, vacuum pulls air from outside and water, if any, will stay in the piping network.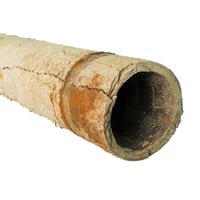 APPROVALS & STANDARD LISTING
Sprinklers For Vacuum System
Sprinklers must be approved and tested for use under vacuum condition. Contact FireFlex® for complete list of approved sprinklers or refer to sprinkler manufacturer's datasheets.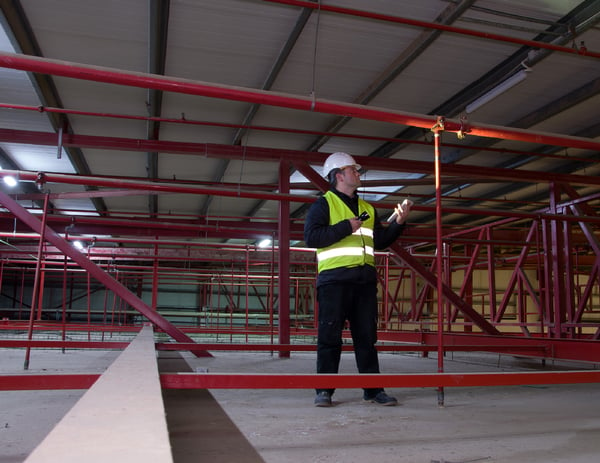 VACTEC system now supports dozens of sprinkler types, here's a quick list.
Model
K
Type
Response
NPT

VK 1001

5.6
Upright
SR

½"

VK 3001
5.6
Upright
QR

½"

VK 2001
8.0
Upright
SR

¾"

VK 2002
8.0
UprightR
SR

½"

VK 3501
8.0
Upright
QR

¾"

VK 3502
8.0
UprightR
QR

½"

VK 598
25.2
Upright
SR

1"

VK 1021
5.6
Pendent
SR

½

"

VK 3021
5.6
Pendent
QR

½

"

VK 2021
8.0
Pendent
SR

¾"

VK 2022
8.0
Pendent
QR

½"

VK 3521
8.0
Pendent
QR

¾"

VK 3522
8.0
Pendent
QR

½"

VK 4921
5.6
Pendent
SR

½"

VK 4621
5.6
Pendent
SR & QR

½"
Riser Shut-off Valve & Vacuum Pump
For easier maintenance the riser shutoff valve comes as a standard on all units. As for the vacuum, it is created using a water ring seal vacuum pump controlled by the FLX-PC.
Riser Shut-off Valve
It consists of a supervised butterfly valve which allows for a full flow trip test without flooding the system's piping and a sight glass located on the main drain for visual indication of the water flow.
Vacuum Pump
The vacuum is created using a (1.5 HP, 208V-240V/60Hz 7 Amps) water ring seal vacuum pump controlled by the FLX-PC.
The vacuum pump used in the system allows for very quick startups. The required time to establish maximum supervisory vacuum level in the piping network is less than 4 minutes for a 1000 gallon system thus saving start-up and maintenance time in the field.
Quiet running and minimal vacuum pump maintenance requirements offers significant advantages compared to air compressors.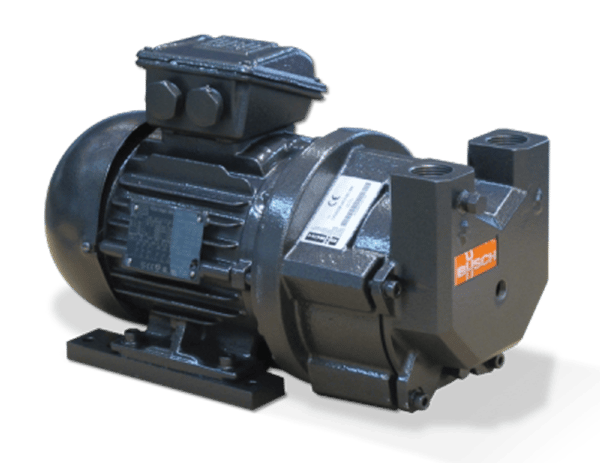 FIREFLEX® Vactec® Certificates & Tools
The
FireFlex® Vactec®

units are FM Approved.

Click on the links below to view the FIREFLEX®-Vactec® certificates:
Talk To A Fire Protection Expert
Whether you want to select, specify, install or maintain our systems, you'll find in this section a range of useful documents related to our integrated systems. For further information, do not hesitate to contact our team of experts.